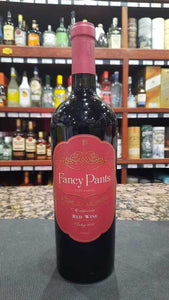 Fancy Pants Red is a bold and luxurious wine that exudes richness and sophistication. Crafted from a blend of high-quality grapes, including Zinfandel, Syrah, and Petite Sirah, this wine showcases the best of California's Central Coast region.
With its deep ruby color, the Fancy Pants Red reveals aromas of dark fruit, black cherry, and plum, complemented by subtle notes of vanilla, spice, and toasted oak. On the palate, the wine is full-bodied and rich, with silky tannins and flavors of blackberry, blueberry, and dark chocolate, balanced by a hint of smoky oak and a touch of acidity. The finish is long and lingering, leaving a delicious aftertaste of ripe fruit and spice.
Perfect for pairing with hearty dishes such as grilled steak, barbecue ribs, or slow-cooked stews, the Fancy Pants Red is a wine that will impress any discerning palate. Enjoy it now or age it for a few years to bring out even more complexity and depth. Whether you're celebrating a special occasion or enjoying a casual dinner with friends, this wine is sure to elevate any meal.