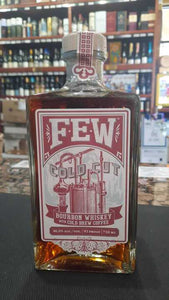 Introducing Few Cold Cut Bourbon Whiskey with Cold Brew Coffee—an innovative fusion of classic bourbon richness and the invigorating essence of cold brew coffee. Crafted by Few Distillery's visionary artisans, this unique spirit redefines expectations and delights the senses with its bold flavor combination.

Few Cold Cut Bourbon Whiskey with Cold Brew Coffee is an embodiment of audacious creativity. Every sip is a journey through the world of bourbon and coffee, where tradition meets modernity in perfect harmony. This expression showcases Few Distillery's commitment to pushing the boundaries of flavor exploration while maintaining the highest standards of craftsmanship.

At first sip, you'll be captivated by the lush, caramel-infused notes of the bourbon. The warm embrace of oak, vanilla, and caramel sets the stage for what's to come. As the layers unfold, a distinct yet harmonious wave of cold brew coffee enters the scene. The earthy bitterness of the coffee intertwines seamlessly with the bourbon's sweetness, creating a remarkable synergy that surprises and delights.

Upon nosing, the aroma is a tantalizing blend of rich coffee beans and the warm familiarity of bourbon. Notes of dark chocolate and roasted nuts dance in the background, inviting you to explore the depths of this intriguing marriage of flavors.

Few Cold Cut Bourbon Whiskey with Cold Brew Coffee dazzles the palate with a captivating interplay. The bourbon's signature caramel and spice open the stage, soon to be joined by the velvety smoothness of cold brew coffee. The result is a sensory experience that is both indulgent and invigorating, a testament to the craftsmanship that has gone into its creation.

The finish is a testament to the seamless balance achieved in this extraordinary blend. As the flavors gradually subside, the finish is surprisingly clean and satisfying. The warmth of bourbon lingers, complemented by a delicate echo of coffee that fades gracefully.

Housed in a sleek and modern bottle, Few Cold Cut Bourbon Whiskey with Cold Brew Coffee's packaging mirrors its innovative spirit. The label pays tribute to both coffee and bourbon heritage, while the overall design conveys a contemporary elegance that stands out on any shelf.

Experience the extraordinary synergy of bourbon and cold brew coffee—Few Cold Cut Bourbon Whiskey with Cold Brew Coffee is more than a drink; it's an exploration of taste, a celebration of craftsmanship, and an invitation to savor the unexpected. Embrace the bold and experience the captivating fusion today.