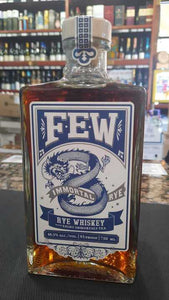 Introducing Few Immortal Rye Whiskey – a masterpiece that encapsulates the essence of time and craftsmanship. Crafted by the renowned artisans at Few Distillery, this exceptional spirit is the result of meticulous attention to detail, premium ingredients, and an unwavering dedication to quality.

Few Immortal Rye Whiskey is a harmonious blend of tradition and innovation, paying homage to the classic techniques of whiskey-making while pushing the boundaries of flavor exploration. Each bottle is a testament to the artistry and passion that goes into creating a truly exceptional spirit.

Upon opening the bottle, you're greeted by a captivating bouquet of rich, warm notes. The initial scent is a symphony of toasted caramel, honeyed grains, and a touch of oak. As you delve deeper, hints of vanilla and spice emerge, inviting you to explore the layers of complexity that define this whiskey.

The first sip of Few Immortal Rye Whiskey is a revelation. The rye character takes center stage, offering a delightful dance of bold spices, including hints of black pepper and cinnamon. This is beautifully balanced by the sweetness of toffee and butterscotch, resulting in a flavor profile that is both robust and inviting. The whiskey's medium body ensures a smooth and satisfying mouthfeel, while the careful aging process imparts a depth of character that lingers long after each sip.

The finish of Few Immortal Rye Whiskey is where time seems to stand still. The flavors continue to evolve, leaving behind a gentle warmth that envelops the senses. The interplay between the spiciness and sweetness creates a crescendo of flavors that leaves a lasting impression, making it a truly memorable and captivating experience.

Housed in an elegant, artisan-crafted bottle, Few Immortal Rye Whiskey's packaging is a visual representation of the care and dedication that goes into every aspect of its creation. The label features intricate details that nod to the brand's heritage, while the minimalist design exudes a modern sophistication.

Whether enjoyed neat, on the rocks, or as the foundation for your favorite cocktails, Few Immortal Rye Whiskey is an invitation to savor life's extraordinary moments. With its timeless character and innovative spirit, it's a testament to the art of whiskey-making and a cherished addition to the collections of connoisseurs and enthusiasts alike. Indulge in the exceptional – savor Few Immortal Rye Whiskey.