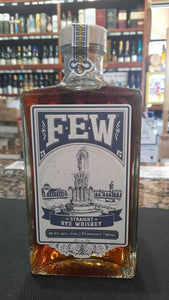 Introducing Few Straight Rye Whiskey—a testament to tradition and craftsmanship that captures the heart of American whiskey heritage. Crafted by Few Distillery's dedicated artisans, this exceptional spirit embodies the art of distillation, aging, and blending, resulting in a rye whiskey that is both timeless and distinct. Few Straight Rye Whiskey stands as a tribute to the legacy of rye whiskey-making. With a commitment to quality and a reverence for the past, Few Distillery has meticulously crafted a rye whiskey that pays homage to its roots while embracing innovation. This expression is a harmonious marriage of history and modernity, making it a must-have addition to any whiskey enthusiast's collection.

From the first sip, you're greeted with the classic rye spiciness that defines this exceptional whiskey. The bold notes of black pepper and cinnamon mingle with the sweetness of dried fruits and caramel, creating a symphony of flavors that dance across the palate. The careful selection of grains and the distillation process contribute to a robust and layered taste experience that stands out in the world of rye whiskey.

Upon nosing, Few Straight Rye Whiskey reveals a bouquet of enticing aromas. The fragrance is a captivating blend of rich oak, warm spices, and a touch of vanilla. As the aromas intertwine, they offer a glimpse into the depth and complexity that await in every sip.

Few Straight Rye Whiskey graces the palate with a dynamic and satisfying journey. The rye's natural spiciness takes center stage, gradually giving way to notes of dried apricot, nutmeg, and hints of toasted grains. The balance of flavors and the whiskey's medium body ensure a smooth and approachable experience, inviting both newcomers and connoisseurs alike to appreciate its character.

The finish is where Few Straight Rye Whiskey truly shines. The rye spice lingers, accompanied by a touch of oak and a gentle warmth that extends the tasting experience. This enduring conclusion invites contemplation, leaving a lasting impression that encourages you to savor the craftsmanship and time-honored techniques that make this rye whiskey exceptional.

Presented in a thoughtfully designed bottle, Few Straight Rye Whiskey's packaging reflects the essence of its contents. The label exudes a timeless charm, while the overall presentation captures the spirit of a bygone era while remaining relevant to the modern whiskey enthusiast.

Few Straight Rye Whiskey is more than a drink—it's a journey through tradition, flavor, and artistry. With each sip, you're transported to the heart of rye whiskey's legacy, a testament to Few Distillery's dedication to creating spirits that stand the test of time. Embrace the heritage and savor the excellence of Few Straight Rye Whiskey today.