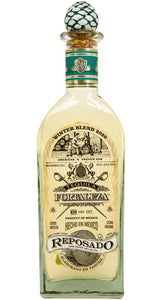 The production team started with the brand's still strength blanco (46% abv). Some went into American Oak barrels previously used to age beer. They also filled some American Oak barrels normally used for their standard repo, and the French Oak barrels previously used to age their 2019 Winter Blend. Both types of American Oak barrels aged for 6 months, while the tequila sat for 10 months in French Oak. We had the opportunity to sample tequila from each barrel to learn which qualities they brought to the mix, and it was enlightening.
The used beer barrels brought a slightly sour, cider-like aroma and effervescent quality to the texture. The French oak juice had heavier aromas of vanilla and white chocolate, with a rich mouth feel that continued into the final product. Finally, the standard Fortaleza American Oak barrels gave a lighter touch when it came to aging, with notes of slight wood and vanilla, letting the cooked agave shine.
Together, Winter Blend 2020 offers a pleasing aspect for every palate, from the cooked agave taste to the warm dried fruit nose, with a hint of cider-like acidity to keep the heavier French Oak notes from overtaking the finish.
They produced just 7,050 bottles at 46% abv and we expect them to go fast. If you get a bottle, rate it in the app and let us know what you think.