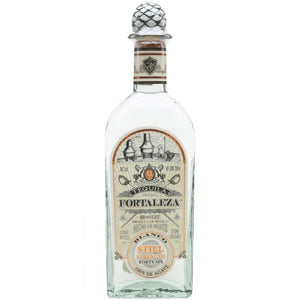 Introducing Fortaleza Still Strength Blanco Tequila, a true embodiment of craftsmanship and tradition. This exceptional tequila pays homage to the rich heritage of Jalisco, Mexico, where it is meticulously handcrafted using time-honored methods passed down through generations.
Fortaleza Still Strength Blanco Tequila stands out with its remarkable purity and unparalleled character. It is made from 100% estate-grown blue Weber agave plants, carefully selected at their peak of maturity. These agaves are harvested by skilled jimadors, who expertly extract the heart, or piña, revealing its natural sweetness and complexity.
The heart of Fortaleza Still Strength Blanco Tequila lies in its production process. After harvesting, the piñas are slowly roasted in traditional stone ovens, releasing their distinct flavors and aromas. They are then crushed using a traditional tahona, a volcanic stone wheel, which gently extracts the agave juice. This method preserves the true essence of the agave, resulting in a tequila with extraordinary depth and character.
The extracted juice is fermented using naturally occurring yeast and fermented for several days. It is then double-distilled in copper pot stills, a meticulous process that further refines and concentrates the flavors. What sets Fortaleza Still Strength Blanco Tequila apart is its high-proof nature, as it is bottled straight from the still without dilution, capturing the intense, unadulterated spirit of the agave.
The result is a tequila that exhibits the true essence of agave, with a vibrant and robust flavor profile. On the palate, you'll discover notes of cooked agave, tropical fruits, and hints of citrus, balanced by a touch of earthiness. Its smooth and silky texture caresses the senses, leading to a long and satisfying finish that lingers on the palate.
Fortaleza Still Strength Blanco Tequila is a testament to the unwavering commitment to quality and craftsmanship. Each bottle represents the passion and dedication of the Camarena family, who have been producing tequila for over five generations. Whether enjoyed neat, on the rocks, or as the foundation of your favorite cocktails, this tequila delivers an unforgettable drinking experience.
Elevate your tequila journey with Fortaleza Still Strength Blanco Tequila and savor the authentic taste of Mexico's tequila heritage.