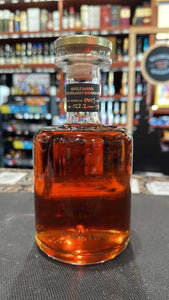 Elevate your whiskey collection to a new level of sophistication with Frank August Single Barrel Cask Strength Batch No 0017 Straight Bourbon Whiskey, an exclusive offering available only at Folsom Wine & Spirits. This exceptional single barrel release represents the pinnacle of the distiller's art, bringing forth a symphony of flavors that embody the essence of traditional bourbon-making.

From the moment you set eyes on the Frank August Single Barrel, you'll be captivated by its understated elegance. Housed in a beautifully designed bottle, it speaks to the craftsmanship and attention to detail that have gone into creating this exquisite bourbon. This is more than just a whiskey; it's a statement of refinement and artistry.

As you uncork the bottle, an inviting aroma fills the room, tantalizing your senses with hints of rich caramel, toasted oak, and a subtle touch of vanilla. The nose is a prelude to the depth and complexity that awaits. The first sip is a revelation, as the bold, cask-strength spirit envelops your palate, delivering a rich and velvety texture that speaks to the aging process.

Flavors of butterscotch, dark chocolate, and a gentle spiciness unfold with each sip, creating a symphony of taste that evolves and lingers, leaving a lasting impression. This is a bourbon that demands your full attention, a testament to the skill and dedication that have been poured into every barrel.

The finish is long and satisfying, leaving you with a warm and lingering embrace that showcases the depth and character of this single barrel release. Frank August Single Barrel Cask Strength Batch No 0017 is an essential addition to the collection of any true bourbon enthusiast, offering a unique opportunity to own a piece of this distillery's legacy.

Elevate your bourbon collection with this exceptional spirit and savor the craftsmanship and dedication that define Frank August. Secure your bottle today, and raise your glass to the art of traditional bourbon-making. Cheers to a world of unparalleled flavor and refinement!