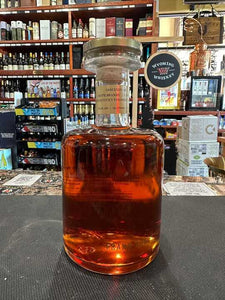 Experience the unparalleled richness and depth of flavor with Frank August Single Barrel Cask Strength Batch No. 02 Straight Bourbon Whiskey, a true masterpiece available exclusively at Folsom Wine & Spirits. This remarkable bourbon is a testament to the dedication and precision of the craft, capturing the essence of fine whiskey-making at its finest.

The Frank August Single Barrel Cask Strength Batch No. 02 bourbon arrives in a beautifully designed bottle, reflecting the classic elegance that is synonymous with exceptional bourbon. As you unseal the bottle, an inviting aroma fills the air, teasing your senses with hints of toasted oak, warm vanilla, and a subtle touch of caramel. This aromatic bouquet is just the beginning of the complexity and depth that awaits.

The first sip is a revelation, as the full-bodied, velvety liquid gently caresses your palate. You'll discover a symphony of flavors, from the rich butterscotch and dark chocolate notes to a hint of warm spices, all in perfect harmony. It's a bourbon that demands your full attention, a testament to the expertise and craftsmanship that has gone into every bottle.

The finish is long and satisfying, leaving you with a warm and lingering embrace that beautifully showcases the depth and character of this single-barrel bourbon. The Frank August Single Barrel Cask Strength Batch No. 02 is an essential addition to the collection of any true whiskey connoisseur, offering a unique opportunity to own a piece of whiskey-making artistry.

Elevate your spirits collection with this exceptional whiskey and raise your glass to the craftsmanship, precision, and legacy that Frank August represents. Secure your bottle today and toast to the depth of character and the promise of memorable moments. Cheers to a world of unparalleled flavor and tradition!