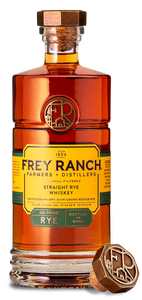 Frey Ranch Straight Rye Whiskey is a premium whiskey produced by Frey Ranch Estate Distillery located in Fallon, Nevada. It is a single barrel, 100% rye whiskey made from a blend of four different types of rye grains, all of which are grown and harvested on the Frey Ranch.
The whiskey is aged in charred new American oak barrels for a minimum of two years, giving it a smooth, rich flavor with notes of caramel, vanilla, and spice. The high rye content of the mash bill results in a spicy, peppery finish that lingers on the palate.
Frey Ranch Straight Rye Whiskey is bottled at 90 proof and is non-chill filtered, allowing the full flavor of the whiskey to shine through. It has won numerous awards, including a Double Gold Medal at the San Francisco World Spirits Competition in 2018 and a Gold Medal at the New York International Spirits Competition in 2020.