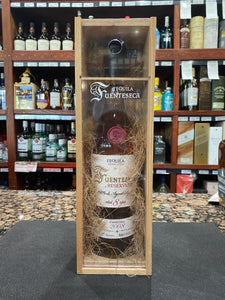 Fuenteseca Reserva 8 Year Old Extra Anejo Tequila is an ultra-premium tequila that has been aged for eight years, creating a complex and rich flavor profile.
The tequila is made from highland agave, which is harvested and roasted in brick ovens to bring out its unique flavor characteristics. The fermented agave juice is then double-distilled in copper pot stills, which helps to refine and concentrate the flavors.
The tequila is aged in oak barrels for eight years, which is longer than most extra anejo tequilas. The aging process takes place in a dry, earthen-floor aging room, where the tequila is exposed to the natural temperature and humidity changes of the environment. This results in a deep, amber color and a complex flavor profile with notes of vanilla, caramel, oak, and spice.
Fuenteseca Reserva 8 Year Old Extra Anejo Tequila is bottled at cask strength, which varies from batch to batch, but typically ranges from 40% to 43% ABV. This tequila is best enjoyed neat or on the rocks, allowing the full range of flavors and aromas to be appreciated. It is a rare and highly sought-after tequila, considered by many to be one of the best in the world.