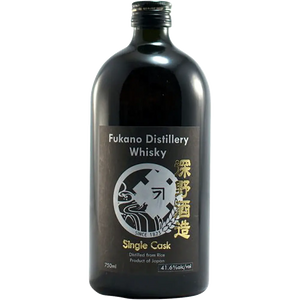 Fukano Single Cask Whisky is a premium Japanese whisky that is carefully crafted using traditional methods and the finest quality ingredients. This whisky is made from a blend of malted and unmalted rice, and aged in American oak casks for several years. Each bottle of Fukano Single Cask Whisky is bottled from a single cask, making it a unique and rare expression of Japanese whisky.
The result is a complex and flavorful whisky with a delicate balance of sweet and spicy flavors. The nose is filled with the aroma of caramel and toffee, followed by notes of oak, vanilla, and a hint of cinnamon on the palate. The finish is long and smooth, with a touch of sweetness.
Fukano Single Cask Whisky is best enjoyed neat or with a few drops of water, where the full range of flavors and aromas can be fully appreciated. It can also be used in cocktails, adding a unique twist to classic whisky cocktails like the Whisky Sour or the Old Fashioned.
Overall, Fukano Single Cask Whisky is a top-quality Japanese whisky that is perfect for those who appreciate the unique flavors and aromas of Japanese whisky. Its complex and delicate flavor profile, along with its rarity, make it a standout choice among whisky enthusiasts and collectors alike. The 750ml bottle is perfect for sharing with friends and family, or for savoring on your own.