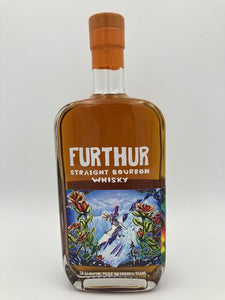 Further Straight Bourbon Whiskey is a premium bourbon whiskey that is crafted with care and precision. It is made from a carefully selected blend of corn, rye, and malted barley, which gives it a rich and complex flavor profile.
This bourbon whiskey is aged for a minimum of two years in charred oak barrels, which helps to impart a deep amber color and a smooth, velvety texture. The aging process also allows the whiskey to develop complex flavors of vanilla, caramel, and oak, along with a subtle hint of spice.
Further Straight Bourbon Whiskey is best enjoyed neat or on the rocks, where its full range of flavors and aromas can be fully appreciated. It is also a great choice for cocktails, where it adds a depth and complexity to classic bourbon cocktails like the Old Fashioned or the Manhattan.
Overall, Further Straight Bourbon Whiskey is a top-quality bourbon that is perfect for those who appreciate the finer things in life. Its rich flavor profile and smooth finish make it a standout choice among bourbon enthusiasts and casual drinkers alike.