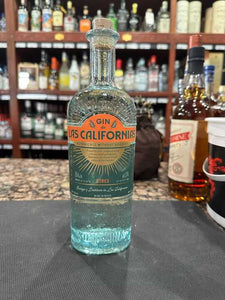 Gin de Las Californias Citrico is a vibrant and refreshing gin that embodies the spirit of California through its innovative infusion of citrusy botanicals. Crafted with a nod to the essence of the West Coast, this gin offers a unique and invigorating taste experience.

As you pour a glass, you'll notice its crystal-clear appearance, hinting at the freshness within. The aroma bursts forth with a zesty bouquet of citrus, including notes of vibrant lemon, bright orange, and perhaps even a touch of grapefruit, invoking images of sun-soaked orchards.

On the palate, Gin de Las Californias Citrico delivers a harmonious blend of flavors—a burst of citrus upfront, complemented by the juniper's classic piney undertones. Alongside the citrus zest, you may discover hints of botanicals like coriander and a subtle herbal complexity that adds depth to each sip.

This gin is a celebration of the California spirit, capturing the essence of the state's vibrant citrus groves and embodying the zest for life that characterizes the region. Whether you're a gin enthusiast or someone seeking a fresh and invigorating spirit, Gin de Las Californias Citrico promises an exciting journey through its citrus-forward profile.

Raise your glass to the California sunshine and vibrant flavors. Enjoy the unique and refreshing Gin de Las Californias Citrico, and elevate your gin experience with its delightful citrus infusion. Cheers to the spirit of the West Coast!