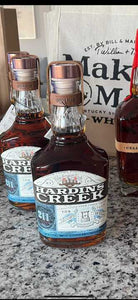 Prepare to embark on an extraordinary whiskey journey with Hardin's Creek Jacob's Well 211 Months Aged Kentucky Straight Bourbon Whiskey, a testament to time, patience, and the dedication of true craftsmen. This exceptionally aged bourbon is a masterpiece in the world of American spirits, a rare find that demands appreciation.

This Kentucky Straight Bourbon is aged an astonishing 211 months, a testament to the distillery's commitment to perfection. Each day in the barrel brings out the character and depth of this whiskey, resulting in a liquid treasure that's nothing short of exceptional.

As you take your first sip, you'll be greeted by a symphony of flavors that have been nurtured over two decades. Notes of rich caramel, toasted oak, and warm vanilla mingle on your palate, creating a luscious and well-rounded experience. The bourbon's long maturation gives it a smoothness that's simply unparalleled, with a finish that lingers as a testament to the patience involved in its creation.

Hardin's Creek Jacob's Well is not just a whiskey; it's a collector's dream, a piece of liquid history that deserves a place of honor in your collection. This bourbon is the embodiment of tradition and craftsmanship, a true celebration of Kentucky's rich bourbon heritage.

Folsom Wine & Spirits is proud to offer you the opportunity to experience this extraordinary 211 Months Aged Kentucky Straight Bourbon Whiskey. It's a whiskey lover's delight and a testament to the dedication of the master distillers who brought it to life. Don't miss the chance to own a piece of this exceptional bourbon and savor the remarkable depths of Hardin's Creek Jacob's Well. Secure your bottle today and raise a glass to perfection in a glass.