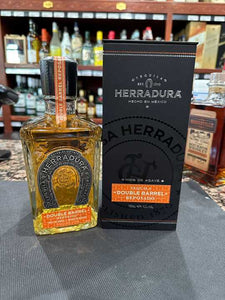 Explore the world of premium tequila with Herradura Double Barrel Reposado, a spirit that sets a new standard for excellence in the world of agave-based libations. With a heritage that spans over 150 years, Herradura is known for producing tequila of unparalleled quality and craftsmanship. The Double Barrel Reposado is a testament to their unwavering dedication to perfection.

This exceptional tequila begins with the finest blue agave plants, carefully selected and hand-harvested from the heart of Mexico's Tequila Valley. Herradura's commitment to tradition is reflected in their unique distillation process, which combines old-world techniques with modern innovation.

What sets Herradura Double Barrel Reposado apart is its innovative aging process. The tequila undergoes a two-step maturation in American oak barrels. Initially, it's aged for 11 months in new charred oak casks, allowing it to acquire the classic Reposado characteristics of vanilla and caramel. It is then transferred to a second, lightly charred barrel for an additional month, infusing the tequila with a subtle smokiness and complexity.

The result is a tequila with a rich, golden hue and an aroma that tantalizes the senses. It's a harmonious blend of sweet cooked agave, vanilla, and toasted oak, promising a tasting experience that's as inviting as it is complex.

On the palate, Herradura Double Barrel Reposado unveils a beautifully balanced profile. The taste is smooth and sophisticated, with notes of caramel, honey, and hints of spice. The tequila's natural sweetness is complemented by a touch of smokiness, creating a layered sensation that is ideal for sipping or crafting exceptional cocktails.

The finish is long and warming, leaving you with the memory of a well-crafted tequila that's meant to be savored. Herradura Double Barrel Reposado Tequila is more than just a spirit; it's a tribute to tradition, a symbol of innovation, and a toast to the enduring legacy of tequila production. At Folsom Wine & Spirits, we are delighted to offer this exceptional tequila to our esteemed customers who demand nothing but the best. Secure your bottle today and elevate your spirits collection with the exceptional quality of Herradura, one sip at a time.