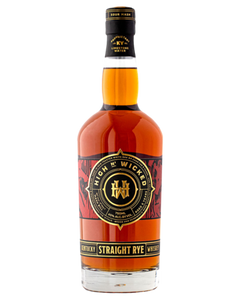 Experience the exceptional taste of High N' Wicked Rye Whiskey, a premium offering from a distinguished Kentucky distillery. This high-quality Rye Whiskey is bottled at 45% ABV and is renowned for its distinctive character, making it one of the most discernible styles of Rye Whiskey produced in Kentucky.

Crafted using only the finest ingredients and traditional distillation methods, this 750ml iteration of Kentucky Straight Rye Whiskey is a true testament to the artistry and craftsmanship of the region's finest whiskey makers. With its rich and complex flavor profile, boasting notes of spice, oak, and a subtle sweetness, this Rye Whiskey is perfectly balanced with a velvety smooth finish.

Whether enjoyed neat or on the rocks, Kentucky Straight Rye Whiskey is an excellent choice for whiskey enthusiasts who appreciate the finer things in life. Discover the height of Rye Whiskey excellence with High N' Wicked Rye Whiskey.