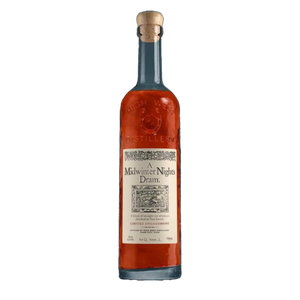 High West A Midwinter Night Dram Straight Rye Whiskey Act #1 is a limited release that offers a delightful blend of aged straight rye whiskeys, carefully finished in Port barrels. Aged between 4 to 10 years, this exceptional whiskey opens with inviting notes of poached pears, dried cherries, star anise, and nutmeg. It's like a speed Christmas cookie dipped in dark chocolate mocha, accompanied by the warmth of cinnamon ginger cake and the earthy aroma of leaves on the forest floor.


As you savor each sip, you'll discover a rich tapestry of flavors, including fig, cranberry, and dark plum jam spread over rye toast. Hints of gingerbread and sipping chocolate add to the complexity, while brandied cherries and a winter-spiced mocha sensation linger on the palate. The influence of French oak spice provides an additional layer of depth.
For the ultimate experience, we recommend enjoying this spirit neat, as its many layers of complexity are best appreciated without dilution. It's the perfect companion for a cozy evening by the fire, watching the snow pile up outside your window. And to top it all off, a Luxardo° cherry at the bottom of a Manhattan cocktail made with this whiskey is a true delight. Indulge in the warmth and richness of High West A Midwinter Night Dram Straight Rye Whiskey Act #11 Scene #1.