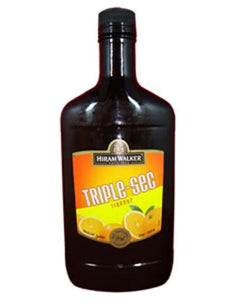 Hiram Walker Triple Sec is a classic and versatile liqueur that is essential for any home bar. This premium triple sec is made using a blend of sweet and bitter orange peels, giving it a bright and zesty flavor profile that is perfect for mixing into a wide range of cocktails.
Triple sec is a key ingredient in many classic cocktails, including margaritas, cosmopolitans, and sidecars. Hiram Walker Triple Sec is a top-quality option for those who want to elevate their cocktail game, thanks to its premium ingredients and balanced flavor profile.
This triple sec is also delicious on its own, served over ice as a refreshing aperitif or digestif. Its bright and citrusy flavor profile makes it a perfect addition to summer cocktails or any occasion where a refreshing and delicious drink is needed.
Overall, Hiram Walker Triple Sec is a must-have for any home bar. Its premium quality, versatile flavor, and affordability make it a standout choice among liqueur enthusiasts and casual drinkers alike. The 750ml bottle is perfect for sharing with friends and family, or for stocking up your home bar for all your cocktail needs.