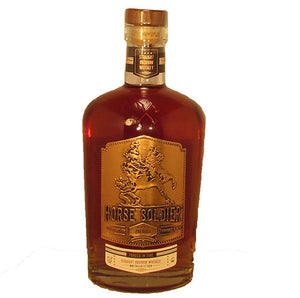 Introducing 'Horse Soldier' Premium Straight Bourbon Whiskey – a testament to bravery, craftsmanship, and the spirit of American resilience. Crafted with unwavering dedication and attention to detail, this exceptional bourbon pays homage to the brave men who fought valiantly in the aftermath of 9/11. Horse Soldier Premium Straight Bourbon Whiskey offers a symphony of flavors that dance across the palate. With the perfect balance of sweetness, spice, and oak, each sip invites you on a journey through layers of complexity. Aromas of caramel, vanilla, and toasted oak greet your senses, leading to a rich and velvety mouthfeel. On the palate, notes of honey, butterscotch, and dried fruits intertwine with a subtle hint of spice, creating a harmonious and deeply satisfying experience. The finish is long and warming, leaving a lingering memory of the heroic spirit that inspired its creation.

Horse Soldier is meticulously crafted using time-honored techniques and the finest ingredients. The bourbon is distilled in small batches, ensuring meticulous control over each step of the process. It's aged to perfection in charred American oak barrels, allowing the whiskey to develop its complex character over the years. The result is a premium straight bourbon that embodies the essence of dedication, courage, and commitment to excellence.

The bottle design reflects the spirit of the Horse Soldiers, featuring an elegant silhouette of a mounted soldier against a backdrop of the American flag. The attention to detail extends to the closure, where a replica of the steel from the World Trade Center stands as a poignant reminder of the courage that inspired this exceptional bourbon.

With every sip of Horse Soldier Premium Straight Bourbon Whiskey, you honor the legacy of those who selflessly served their nation. A portion of the proceeds from each bottle is dedicated to supporting veterans and their families, underscoring the commitment to giving back to the community and carrying forward the spirit of solidarity.

Elevate your tasting experience with 'Horse Soldier' Premium Straight Bourbon Whiskey – a remarkable blend of heritage, craftsmanship, and tribute to the indomitable human spirit.