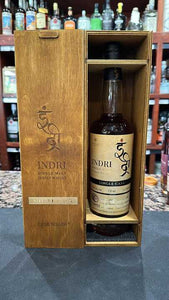 Elevate your spirits experience with Indri Single Malt Cask No. 2917, a limited edition Single Cask Indian Whiskey that redefines the art of whisky craftsmanship. This exceptional expression is a testament to the skill and innovation of Indian distilleries, making it a must-have addition to any discerning connoisseur's collection.

Indri Single Malt Cask No. 2917 is the embodiment of the uniqueness that Indian whisky offers. Crafted with precision and care, this single malt was matured in an exclusive cask, ensuring that each bottle is a one-of-a-kind masterpiece.

Upon pouring a glass, you'll be greeted by its inviting amber hue, a visual indication of its rich and complex character. The aroma is a captivating blend of malted barley, dried fruits, and subtle spices, inviting you to savor the journey ahead. On the palate, you'll be immersed in a symphony of flavors, with notes of honeyed vanilla, orchard fruits, and a gentle touch of oak. The finish is long and satisfying, leaving a warm and memorable impression that lingers.

Indri Single Malt Cask No. 2917 is not just a whiskey; it's a celebration of innovation, individuality, and the pursuit of excellence in the Indian whisky landscape. Whether you're an avid enthusiast or someone new to the world of Indian whiskey, this limited edition expression is a must-try for those who appreciate craftsmanship, artistry, and the uniqueness that Indian whisky brings to the global stage.

Immerse yourself in the luxurious world of Indri Single Malt Cask No. 2917 by ordering a bottle today from Folsom Wine & Spirits. Savor every sip of this exquisite Single Cask Indian Whiskey, a true testament to the diversity and excellence that the world of whiskey has to offer. Cheers to the exceptional!