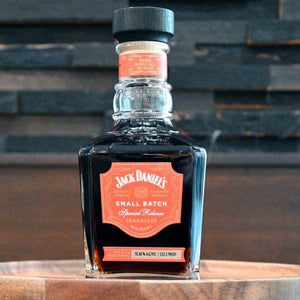 One of the most popular whiskey releases from the past year is making a surprise — albeit highly limited — return. Jack Daniel Distillery has announced Jack Daniel's Small Batch Special Release Coy Hill High Proof in 375-ml. bottles, available in Tennessee only.
Matured in the highest areas of barrelhouses on Coy Hill, the highest elevation at the Jack Daniel Distillery, this Tennessee whiskey comes bottled at proof points ranging from 143.6 to 155.1.
Originally released in 750-ml. bottles last November, Coy Hill High Proof quickly caught the attention of whiskey fans. That bottle has become among the most sought after (and pricier) on the secondary market, noted for its extraordinarily rich flavors. Many whiskey aficionados consider Coy Hill to be one of the top products ever released by the distillery — if not the best.