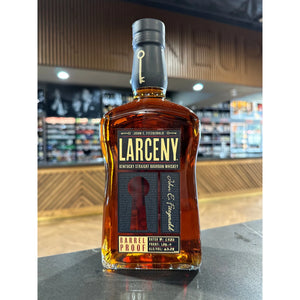 Uncover the essence of exceptional bourbon with John E. Fitzgerald Larceny Barrel Proof Straight Bourbon Batch C923. At Liquor Espress, we're honored to present this outstanding expression, which embodies the true spirit of Kentucky's finest craftsmanship and heritage.

Batch C923 is a testament to the legacy of John E. Fitzgerald, a legendary figure in bourbon history. The Larceny Barrel Proof series pays homage to his notoriety as a treasury agent with a penchant for helping himself to the best barrels in the rickhouse. Each release showcases the remarkable quality and character that he was drawn to.

This bourbon presents itself with a rich, deep amber hue, hinting at the complexity that awaits within. The aroma is an enticing blend of caramel, toasted oak, and a touch of vanilla. It's a sensory journey that promises something extraordinary.

The first sip is a revelation, as layers of flavor unfold on your palate. You'll encounter a symphony of tastes, from luscious toffee and dark chocolate to subtle notes of dried fruits and spices. Batch C923 boasts a full-bodied richness and an unparalleled smoothness that lingers on the finish, leaving a lasting memory that invites you to savor every drop.

What sets Larceny Barrel Proof Bourbon apart is its commitment to quality and its embodiment of the traditional Kentucky wheated bourbon style. This particular batch is bottled at barrel proof, meaning it retains the full strength and intensity of the bourbon straight from the barrel, without dilution.

This exceptional bourbon is not just a spirit; it's an invitation to celebrate life's finest moments. Whether you're an experienced bourbon aficionado or a newcomer to the world of aged spirits, John E. Fitzgerald Larceny Barrel Proof Batch C923 offers a unique opportunity to experience the richness and complexity of Kentucky bourbon at its finest.

This limited-edition release is perfect for special occasions, from milestone celebrations to quiet, contemplative evenings. Enjoy it neat in a crystal tumbler to fully appreciate its depth or use it as the base for exquisite cocktails that highlight its bold character.

Elevate your spirits collection with John E. Fitzgerald Larceny Barrel Proof Straight Bourbon Batch C923 from Liquor Espress, and let your senses embark on a journey through the finest traditions of Kentucky bourbon-making. Don't miss your chance to savor the essence of this exceptional batch, and discover why it is a true masterpiece that stands as a testament to the art of distillation.