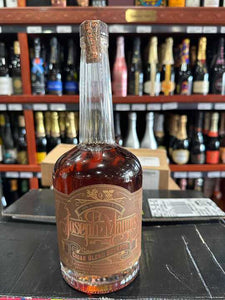 The Joseph Magnus Cigar Blend Batch 188 Straight Bourbon is a distinguished expression that exemplifies the artistry and complexity of American whiskey-making. Crafted with precision and care, this bourbon is a testament to the heritage and tradition upheld by Joseph Magnus Distillery.

Batch 188 is a limited release that pays homage to the perfect pairing of fine bourbon with the enjoyment of a good cigar. As you pour a glass, you'll be captivated by its rich amber hue, a visual testament to the meticulous aging process and the variety of cask finishes used in its creation.

The aroma is a delightful symphony of caramel, vanilla, and baking spices, with subtle hints of dried fruits and oak. On the palate, the Cigar Blend delivers a harmonious fusion of flavors—sweet caramel, dark chocolate, maple, and a touch of smokiness—creating a nuanced and layered taste profile. The finish is long and satisfying, leaving a warm and lingering sensation.

The Joseph Magnus Cigar Blend Batch 188 Straight Bourbon is not merely a whiskey; it's a tribute to the connoisseurs of both fine bourbon and premium cigars, inviting you to savor the art of pairing these indulgent pleasures.

Whether you're an enthusiast seeking a unique bourbon experience or someone intrigued by the artful fusion of flavors, this limited edition release is an excellent addition to your collection. Embrace the sophistication and craftsmanship embodied in every sip of the Joseph Magnus Cigar Blend Batch 188 Straight Bourbon. Cheers to the art of blending and indulgence!