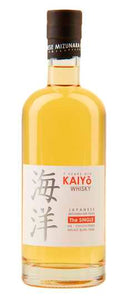 Kaiyo The Single 7 Year Old Japanese Whisky is a premium expression from the renowned Kaiyo distillery in Japan. This whisky is aged for a full 7 years in Mizunara oak casks, a rare and highly prized type of Japanese oak that imparts a distinctive flavor and aroma to the whisky.
On the nose, this whisky offers a complex and intriguing bouquet, with notes of honey, vanilla, and toasted oak, complemented by hints of coconut and spice. The palate is smooth and well-rounded, with flavors of caramel, toffee, and dried fruit, balanced by a subtle smokiness and a touch of sea salt. The finish is long and lingering, with a gentle warmth and a hint of toasted almond.
Bottled at 43% ABV, this whisky has a rich and luxurious mouthfeel, with a perfect balance of sweetness and complexity. Whether enjoyed neat, on the rocks, or with a splash of water, Kaiyo The Single 7 Year Old Japanese Whisky is a true delight for the senses.
With its exceptional quality and unique flavor profile, this whisky is a must-try for any whisky lover. Whether sipped on a special occasion or savored slowly on a quiet evening, it is sure to leave a lasting impression.