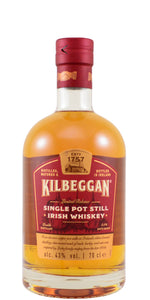 Kilbeggan Single Pot Still Irish Whiskey is a premium, small-batch Irish whiskey that is rich in character and flavor. Crafted using traditional Irish whiskey-making techniques, Kilbeggan Single Pot Still is made from a mash of malted and unmalted barley that is triple distilled in copper pot stills.
This whiskey boasts a beautiful golden color and a complex aroma that combines notes of fresh cut hay, nutmeg, and toasted oak. On the palate, Kilbeggan Single Pot Still is smooth and creamy, with flavors of honey, vanilla, and spicy ginger. The finish is long and lingering, with a subtle hint of caramel and a touch of black pepper.
Kilbeggan Single Pot Still is the perfect sipping whiskey, best enjoyed neat or on the rocks. It is also a versatile whiskey that can be used in a range of cocktails, adding depth and complexity to any mixed drink. Whether you're a seasoned whiskey aficionado or just starting to explore the world of Irish whiskey, Kilbeggan Single Pot Still is a must-try.