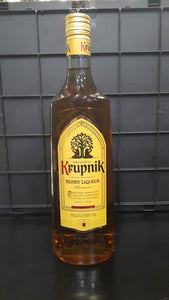 Krupnik Honey Liqueur is a premium Polish liqueur made using a centuries-old recipe that combines natural honey, spices, and high-quality grain alcohol. This traditional liqueur has been enjoyed for generations in Poland, and is now available to be savored around the world.
The honey used in Krupnik Honey Liqueur is sourced from the pristine countryside of Poland, where bees feed on wildflowers, giving the liqueur a unique and delicate floral note. This, combined with the warm and comforting flavors of cinnamon, nutmeg, and cloves, creates a perfectly balanced and smooth taste.
Krupnik Honey Liqueur is best served chilled or over ice, allowing the full range of flavors and aromas to be fully appreciated. It can also be used in cocktails, adding a touch of sweetness and spice to classic cocktails like the Hot Toddy or the Old Fashioned.
Overall, Krupnik Honey Liqueur is a top-quality honey liqueur that is perfect for those who appreciate the rich and warm flavors of honey and spices. Its unique and centuries-old recipe, combined with high-quality ingredients, make it a standout choice among liqueur enthusiasts and casual drinkers alike. The 750ml bottle is perfect for sharing with friends and family, or for savoring on your own.