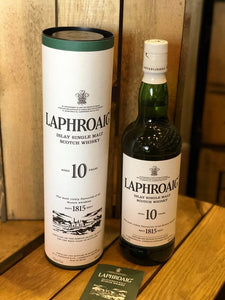 Laphroaig 10 Year Old Scotch Whiskey is a well-known and highly respected single malt whiskey produced on the Isle of Islay in Scotland. This whiskey is famous for its distinct smoky and peaty flavor, which is achieved through the traditional method of drying the malted barley over a peat fire.
The nose of Laphroaig 10 Year Old Scotch Whiskey is bold and complex, with notes of smoke, seaweed, and iodine. On the palate, it has a rich and full-bodied taste, with flavors of peat smoke, brine, and a hint of sweetness from the malted barley. The finish is long and warming, with a slight sweetness that balances the smoky and salty notes.
This whiskey is matured for 10 years in oak casks, which gives it a smooth and mellow character. Laphroaig 10 Year Old Scotch Whiskey is best enjoyed neat or with a splash of water, and is an excellent choice for whiskey lovers who enjoy a bold and distinctive flavor. It is also a popular choice among connoisseurs and has won numerous awards for its quality and taste.