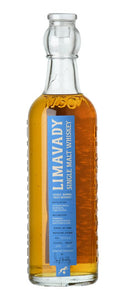 Experience the essence of Ireland's finest craftsmanship with Limavady Single Barrel Irish Whiskey. Crafted with precision and passion, this extraordinary whiskey is a testament to the rich heritage and tradition of Irish distillation.

Limavady Single Barrel is a celebration of the art of the master distiller, where each bottle represents the unique character of a single carefully chosen barrel. This approach ensures that every sip delivers an exceptional and singular experience, making it a true treasure for whiskey connoisseurs and enthusiasts alike.

Pour a glass of Limavady Single Barrel, and you'll be greeted by a warm, inviting hue that promises a rich and rewarding experience. The aroma is an enchanting blend of malted barley, caramel, and a subtle hint of oak, creating a sensory journey before the first sip. On the palate, you'll discover a symphony of flavors, with notes of vanilla, honey, and a gentle touch of spice, creating a harmonious and nuanced profile. The finish is long and satisfying, leaving you with a warmth that lingers, inviting you to savor every drop.

Limavady Single Barrel Irish Whiskey is not just a spirit; it's an invitation to explore the heart and soul of Ireland in a glass. It's perfect for sipping neat, on the rocks, or as the star of your favorite whiskey cocktail.

Whether you're a seasoned whiskey enthusiast or someone eager to explore the world of Irish whiskey, Limavady Single Barrel is a must-have addition to your collection. It embodies the spirit and tradition of Ireland's distillation heritage, where every drop is a testament to the dedication and skill of the master distiller. Order your bottle today from Folsom Wine & Spirits and experience the unique character of Limavady Single Barrel Irish Whiskey. Cheers to the extraordinary!