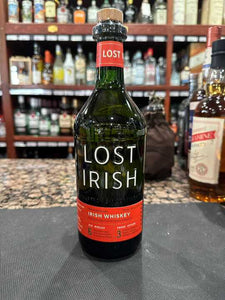 As of my last update in January 2022, there isn't widespread information available about a brand named "Lost Irish Blended Irish Whiskey." It's possible that it might be a newer release, a limited edition, or a smaller-scale production that might not have gained significant recognition or distribution yet.

Irish whiskey, known for its smoothness and diverse flavor profiles, includes various established distilleries such as Jameson, Bushmills, Redbreast, Teeling, among others. These brands offer a wide range of expressions, each with its unique characteristics and heritage.

If "Lost Irish Blended Irish Whiskey" is a recent addition to the market, checking local or specialized liquor stores, distillery announcements, or the brand's official website might provide more information about its production methods, tasting notes, and availability.

It's worth exploring newer or lesser-known brands as they might offer distinct flavors and stories that contribute to the rich tapestry of Irish whiskey. If you have the opportunity to try it, it could be an exciting adventure into newer expressions within the world of Irish whiskey.