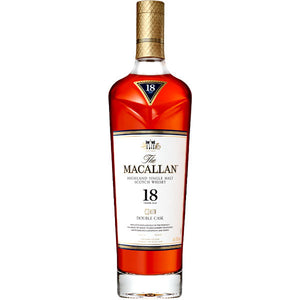 Introducing the Macallan 18 Year Old Double Cask Single Malt Scotch Whisky, a true masterpiece that encapsulates the essence of luxury and craftsmanship. This exceptional whisky is the embodiment of tradition and innovation, a harmonious blend of heritage and modernity. Crafted by the renowned Macallan distillery, it represents the pinnacle of their dedication to creating unparalleled Scotch whisky experiences.

The Macallan 18 Year Old Double Cask is a whisky that exudes sophistication from the very first sip. It begins its journey by maturing in a combination of sherry-seasoned American oak and European oak casks, carefully selected to impart a rich and complex flavor profile. The aging process of 18 years lends it a remarkable depth, allowing the whisky to develop a deep amber hue and an intricate tapestry of flavors.

On the nose, this whisky offers an enticing bouquet of dried fruits, toffee, and vanilla, followed by subtle hints of ginger and oak. As you take your first sip, you'll be greeted by a symphony of flavors that dance gracefully on your palate. Indulge in the luscious notes of sultanas, orange peel, and warm spices, all balanced by the sweetness of vanilla and the subtle influence of oak. The finish is long and satisfying, leaving a lingering impression of spice and dried fruits, making every sip a truly memorable experience.

The Macallan 18 Year Old Double Cask is the embodiment of balance and complexity, making it an ideal choice for those seeking a whisky that is both approachable and refined. It's perfect for special occasions, celebrations, or for simply savoring a moment of quiet indulgence. Whether you're a seasoned whisky connoisseur or just beginning to explore the world of Scotch, this whisky will captivate your senses and leave you with a lasting appreciation for the artistry that goes into its creation.

At Liquor Folsom Wine and Spirits, we are proud to offer this exceptional Macallan expression to our discerning customers. We invite you to experience the unparalleled quality and elegance of the Macallan 18 Year Old Double Cask Single Malt Scotch Whisky. Elevate your spirits collection and elevate your palate with this remarkable whisky that is sure to become a cherished addition to your repertoire. Order yours today and indulge in the timeless luxury of Macallan.