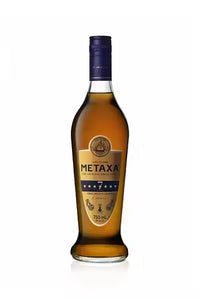 Metaxa 7 Stars Brandy is a premium Greek brandy that has been aged for a minimum of seven years in oak casks, resulting in a smooth and sophisticated spirit that is perfect for sipping or mixing in cocktails. With a deep amber color and a complex aroma, this brandy is a true delight for the senses.
On the nose, Metaxa 7 Stars Brandy offers a rich bouquet of dried fruit, honey, vanilla, and spices, with hints of oak and caramel. On the palate, it delivers a smooth and mellow taste that is characterized by a perfect balance of sweetness and spice. The finish is long and satisfying, with notes of toasted oak and a subtle hint of smoke.
Metaxa 7 Stars Brandy is best enjoyed neat or on the rocks, but it can also be used in a variety of cocktails, such as the classic Sidecar or the Brandy Alexander. It is a versatile spirit that can be enjoyed in any setting, whether it be at a formal dinner party or a casual gathering with friends.
Overall, Metaxa 7 Stars Brandy is a luxurious and sophisticated brandy that is sure to impress even the most discerning spirits connoisseurs. Its rich and complex flavor profile, combined with its elegant packaging and long history of quality craftsmanship, make it a true treasure of the spirits world.