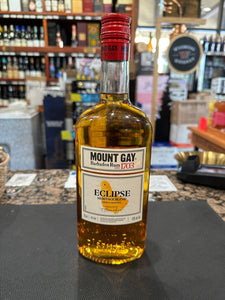 Introducing Mount Gay Eclipse Rum, a timeless and revered spirit that graces your senses with its exquisite blend of history, craftsmanship, and flavor. At Folsom Wine & Spirits, we are proud to showcase this exceptional rum, a true gem in the world of spirits.

Crafted in the heart of Barbados, Mount Gay Eclipse Rum has a legacy dating back to 1703, making it one of the oldest rum distilleries in the world. This rich heritage is a testament to the dedication and expertise that goes into every bottle. As you pour a glass of Eclipse Rum, you're not just indulging in a drink; you're savoring centuries of tradition and expertise.

The moment Eclipse Rum touches your lips, you'll be captivated by its smoothness and complexity. Aged in oak barrels, it boasts a harmonious blend of vanilla, caramel, and a subtle hint of banana. Each sip is a journey through the Caribbean, with warm, soothing flavors that linger on your palate, inviting you to explore its depths.

Whether you prefer it neat, on the rocks, or as the star ingredient in a classic cocktail, Mount Gay Eclipse Rum shines in every setting. Its versatility knows no bounds, making it a favorite among mixologists and rum enthusiasts alike. Whether you're crafting a Mojito, a Rum Punch, or simply sipping it slowly, Eclipse Rum elevates your drinking experience to new heights.

At Folsom Wine & Spirits, we take pride in offering you the opportunity to experience the magic of Mount Gay Eclipse Rum. As you browse our collection, you'll discover the perfect addition to your home bar or a thoughtful gift for someone special. Elevate your moments and create lasting memories with this exceptional rum that embodies the spirit of Barbados.

Indulge in the legacy, the craftsmanship, and the flavor of Mount Gay Eclipse Rum. It's not just a drink; it's a journey into the heart of the Caribbean, right in the comfort of your glass. Order your bottle today and let the celebration begin. Cheers to the extraordinary taste of Mount Gay Eclipse Rum, only at Folsom Wine & Spirits.