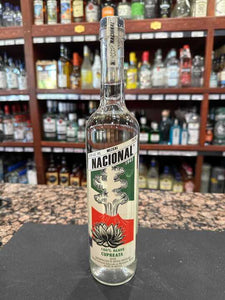 Immerse yourself in the captivating world of Nacional 1943 Cupreata Mezcal, a true masterpiece of artisanal craft and tradition. Hailing from the mystical lands of Mexico, this exceptional spirit is a testament to the legacy of mezcal production and the profound connection between nature, heritage, and craftsmanship. Nacional 1943 Cupreata Mezcal is more than just a drink; it's an experience that tells a story of centuries-old techniques passed down through generations.

With a history deeply rooted in Mexican culture, this mezcal is created from the agave Cupreata, an ancient and cherished variety known for its unique flavor profile. Hand-harvested by local maestros mezcaleros, the agaves are slow-cooked in traditional earthen pits, imparting a smoky essence that captures the essence of the rugged terrains where they thrive. The agave hearts are then crushed using a tahona wheel, a labor-intensive process that preserves the spirit's authenticity.

The result is a mezcal that boasts a rich, golden hue, a visual testament to the quality and care that goes into every bottle. On the nose, you'll encounter a symphony of aromas, from earthy agave and smoky notes to hints of roasted fruit. It's a sensory journey that transports you to the heart of Mexico's mezcal culture, where tradition meets innovation.

The palate is an exploration of complexity. Nacional 1943 Cupreata Mezcal offers a beautifully balanced array of flavors, from the sweet and fruity agave to the subtle earthiness and smokiness. Each sip unfolds a tapestry of tastes that reflect the craftsmanship and heritage of its makers. The finish is long and satisfying, leaving a warm memory of roasted agave and the mezcal's unique terroir.

At Folsom Wine & Spirits, we are delighted to offer Nacional 1943 Cupreata Mezcal to our discerning customers, who recognize and appreciate the artistry of fine spirits. This exceptional mezcal is a limited release, making it a precious addition to your collection or the perfect gift for a fellow enthusiast. Secure your bottle today and savor the legacy, culture, and essence of Mexico, one sip at a time.