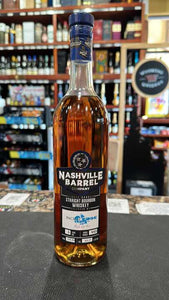 Indulge in the finest of bourbons with the Nashville Barrel Single Barrel Cask Strength 6 Years Old Pacific Edge Pick Barrel 883 Bourbon Whiskey, a true treasure in the world of spirits, available exclusively at Folsom Wine & Spirits. This remarkable single barrel release is a testament to the dedication and expertise that Nashville Barrel pours into each drop of its craft. Prepare to embark on a journey through flavor and elegance that only a truly exceptional bourbon can offer.

The presentation is the first hint that you're in for something special. Housed in a distinctive bottle, the Nashville Barrel Single Barrel 6-Year-Old Bourbon stands as an ode to artisanal craftsmanship and the heart of the American whiskey tradition. This Pacific Edge Pick Barrel 883 release is more than just a whiskey; it's a piece of liquid art that tells a unique story.

As you unseal the bottle, an enticing aroma fills the air, teasing your senses with hints of caramel, oak, and a touch of spice. This bourbon is a masterclass in balance and complexity, a result of six years of meticulous aging. The first sip is a revelation, with a bold, cask-strength character that envelops your palate. You'll experience rich flavors of butterscotch, toasted vanilla, and a subtle undertone of dried fruits, all interplaying in perfect harmony.

The finish is long and satisfying, leaving you with a warm and lingering embrace. This Nashville Barrel Single Barrel Bourbon is the embodiment of patience and skill, showcasing the depth that only a single barrel release can provide. It's a true gem for the discerning bourbon enthusiast, and it's available exclusively at Folsom Wine & Spirits.

This limited release offers a rare opportunity to own a piece of Nashville Barrel's legacy, meticulously selected by Pacific Edge in Barrel 883. Elevate your bourbon collection with this exceptional spirit, and savor the craft and dedication that define Nashville Barrel. Secure your bottle today, and toast to the unique character and tradition of American bourbon. Cheers to a world of unparalleled flavor and craftsmanship!