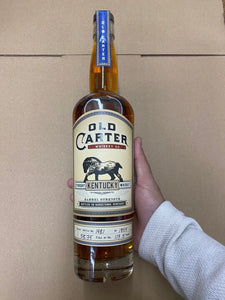 Mark and Sherri Carter, a husband and wife team, founded Old Carter Whiskey Co as a passion project after years of success in the wine industry. Their Carter Cellars Cabernets, produced in Napa Valley, have garnered nine perfect 100 point scores from critics. Although they initially partnered with a Kentucky friend to revive a long-dormant bourbon brand, their love for the whiskey-making process and the state of Kentucky led them to start Old Carter Whiskey Co.
Old Carter Whiskey Co now produces a range of Straight Ryes, Bourbons, and American Whiskey at various locations throughout Kentucky, with showrooms in Lexington and Louisville (with the latter under construction and coming soon). The Carters personally oversee all aspects of the business, from creating new blends and selecting individual barrels to designing and handwriting each label for every bottling. This hands-on approach has allowed them to continue creating together, making Old Carter Whiskey Co a true labor of love.
For Mark and Sherri, being able to share their passion for whiskey with enthusiasts worldwide completes the picture.