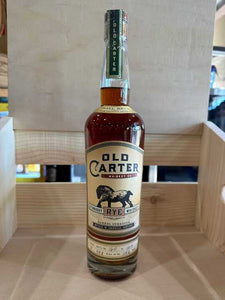 Elevate your whiskey experience to new heights with Old Carter Barrel Strength Batch 11 Straight Rye Whiskey. Crafted with the utmost care and expertise, this remarkable expression embodies the essence of American whiskey tradition, offering a sensory journey that's both captivating and unforgettable. Distilled and blended by the revered Old Carter team, Batch 11 stands as a true testament to their commitment to excellence.

The moment you pour Old Carter Barrel Strength Batch 11 into your glass, its deep, inviting amber hue captures your attention. It's a visual preview of the exceptional flavor that awaits. Bring the glass to your nose, and you'll be greeted by a mesmerizing bouquet. The aroma is an exquisite interplay of oak, warm vanilla, and subtle spice, teasing your senses with the promise of a remarkable tasting experience.

As you take your first sip, the palate of Old Carter Barrel Strength Batch 11 reveals its depth and complexity. The robust spiciness of rye harmonizes seamlessly with the luscious sweetness of caramel and a delicate touch of dried fruits. It's a symphony of flavors that dance on your taste buds, a testament to the artistry that went into crafting this exceptional rye whiskey.

And then there's the finish – a true testament to the quality of Batch 11. Long, warming, and exceptionally smooth, it leaves an indelible mark on your palate. This whiskey isn't just a beverage; it's an experience, one that invites contemplation and appreciation, making it a must-have for collectors and enthusiasts.

Limited in quantity and unparalleled in quality, Old Carter Barrel Strength Batch 11 Straight Rye Whiskey is a connoisseur's dream. Whether you're adding to your prized collection or searching for an extraordinary gift, this expression embodies the spirit of American whiskey like no other. Elevate your senses and elevate your collection with Old Carter Barrel Strength Batch 11, available now at Folsom Wine & Spirits. Order your bottle today and savor the legacy of fine whiskey-making with every sip.