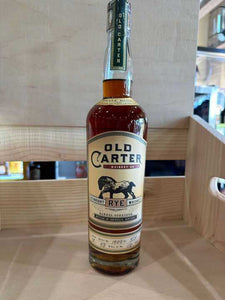 Delve into the world of exceptional rye whiskey with Old Carter Whiskey Co. Batch 12 Straight Rye Whiskey, an unparalleled gem available exclusively at Folsom Wine & Spirits. This extraordinary rye is a testament to Old Carter Whiskey Co.'s unwavering commitment to the art of distillation and blending, offering an experience that transcends the ordinary and embraces the extraordinary.

The Old Carter Whiskey Co. Batch 12 Rye comes presented in an exquisitely designed bottle that reflects the brand's dedication to both tradition and innovation. As you unseal the bottle, an inviting aroma fills the air, tantalizing your senses with notes of spicy rye, hints of dried fruit, and a subtle touch of oak. This bouquet is a prelude to the complexity and depth that lie within.

The first sip is an awakening of the senses, as the full-bodied, velvety liquid gracefully envelops your palate. You'll encounter a symphony of flavors, from the bold spiciness of rye to the richness of dried fruits, dark chocolate, and a gentle hint of vanilla. This is not just a rye whiskey; it's a masterpiece, a testament to the art of blending and crafting that Old Carter Whiskey Co. has perfected.

The finish is long and satisfying, leaving you with a warm and lingering embrace that beautifully showcases the depth and character of this exceptional rye. The Old Carter Whiskey Co. Batch 12 Straight Rye Whiskey is an essential addition to the collection of any true whiskey connoisseur, offering a unique opportunity to own a piece of Old Carter Whiskey Co.'s legacy.

Elevate your whiskey collection with this remarkable spirit, and raise your glass to the craftsmanship, precision, and innovation that define Old Carter Whiskey Co. Secure your bottle today and toast to the depth of character and the promise of memorable moments. Cheers to a world of unparalleled flavor and ingenuity!