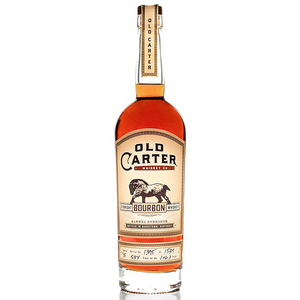 Introducing the Old Carter Small Batch Straight Bourbon Whiskey Batch No. 8 – a true masterpiece that encapsulates the rich heritage of bourbon-making while pushing the boundaries of flavor and craftsmanship. With each sip, you'll be transported on a sensory journey through time and tradition, experiencing the harmonious blend of history and innovation.

Crafted by the expert hands of skilled artisans, this 750ml bottle of Batch No. 8 is a testament to Old Carter's dedication to quality and excellence. Meticulously selected and artfully blended, the whiskey within is a symphony of flavors that dance on your palate.

Upon uncorking, you'll be greeted by a captivating bouquet of warm vanilla, toasted oak, and hints of caramelized sugar. The aroma evokes memories of a cozy fireside evening, setting the stage for the indulgence that awaits.

With the first sip, layers of complexity unfold. The palate is graced with notes of sweet butterscotch, ripe stone fruits, and a gentle spiciness that adds depth to the experience. The interplay between the sweet and the spicy creates a harmonious balance that lingers delightfully.

The finish is long and satisfying, leaving you with a lingering embrace of oak and subtle whispers of baking spices. It's a finale that invites you to reflect on the journey you've just taken through the heritage and innovation in every drop.

The Old Carter Small Batch Straight Bourbon Whiskey Batch No. 8 comes in an elegantly designed 750ml bottle, a true masterpiece worthy of display. The label, adorned with intricate detailing, pays homage to the artistry and passion poured into every aspect of this bourbon.

Whether you're a seasoned bourbon connoisseur or someone just beginning their exploration of this classic spirit, Old Carter Batch No. 8 is an experience you won't want to miss. Indulge in the fusion of tradition and innovation, and savor the layers of flavor that make this bourbon a work of art. Share it with friends and loved ones or enjoy it in quiet contemplation – either way, you're in for an extraordinary sensory adventure.