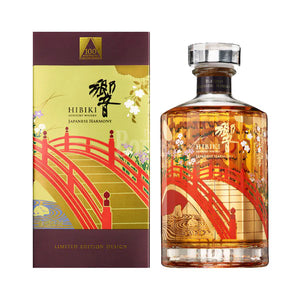 *Limit 3 bottles per customer due to limited supply
Celebrate a century of excellence with the Suntory Hibiki Japanese Harmony 100th Anniversary Edition Blended Whisky. This exceptional release pays homage to the legendary Suntory Whisky, marking a milestone in their illustrious history. Crafted with the utmost precision and artistry, this limited edition blend is a true masterpiece that captures the essence of Japanese whisky-making.

The Hibiki Japanese Harmony 100th Anniversary Edition is a testament to the renowned Suntory craftsmanship, where tradition meets innovation. This blend incorporates malt and grain whiskies from across Japan, meticulously selected to create a harmonious symphony of flavors. It's a whisky that resonates with both novice and connoisseurs, thanks to its approachable yet complex character.

Upon the first sip, you'll be transported to a world of elegance and refinement. Delicate floral notes, a touch of honey, and a subtle hint of Mizunara oak embrace your palate, creating a lush and well-rounded profile. The whisky's name, "Harmony," truly reflects the balance and unity of flavors that dance gracefully on your taste buds.

The 100th Anniversary Edition pays tribute to Suntory's legacy with a beautifully designed bottle that features traditional Japanese craftsmanship. It's not just a whisky; it's a work of art that deserves a place of honor in your collection.

At Folsom Wine & Spirits, we are proud to offer you the opportunity to experience this exquisite limited edition blend. The Suntory Hibiki Japanese Harmony 100th Anniversary Edition Blended Whisky is a collector's dream and a perfect gift for those who appreciate the finer things in life. Don't miss the chance to own a piece of history and savor the unparalleled elegance of Japanese whisky. Secure your bottle today and join us in toasting to 100 years of Suntory excellence.