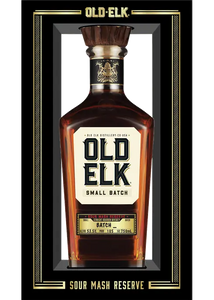 Indulge in the exceptional craftsmanship of Old Elk Sour Mash Reserve Small Batch Whiskey, Batch No. 2, a true masterpiece that stands as a testament to the art of American whiskey-making. Available exclusively at Folsom Wine & Spirits, this small batch whiskey is a testament to the dedication and passion of Old Elk Distillery, known for their unwavering commitment to quality.

Old Elk Sour Mash Reserve is a whiskey that pays homage to tradition while pushing the boundaries of flavor. Batch No. 2 is a remarkable expression that takes the best of time-honored methods and combines them with modern innovation. The result is a whiskey that offers an unforgettable experience from the very first sip.

Pouring a warm amber hue into your glass, Old Elk Sour Mash Reserve immediately captivates with its inviting aroma. The nose is greeted by notes of caramel, vanilla, and toasted oak, promising a whiskey of remarkable complexity. As you take your first sip, you'll be treated to a symphony of flavors, with hints of butterscotch, dried fruit, and spices dancing on your palate. The finish is long and smooth, leaving a warm, satisfying afterglow.

What sets Old Elk Sour Mash Reserve apart is the meticulous attention to detail in its creation. This whiskey is crafted from a unique blend of corn, rye, and malted barley, each grain carefully chosen to contribute to its rich and complex character. The spirit is aged in new, charred oak barrels, allowing it to mature gracefully and develop the depth of flavors that make it truly exceptional.

Old Elk Sour Mash Reserve is not just a whiskey; it's a work of art. Whether you choose to enjoy it neat, on the rocks, or as the foundation for your favorite cocktails, it elevates every moment. Celebrate special occasions or simply savor it during quiet evenings of reflection; this whiskey is a companion that never disappoints.

At Folsom Wine & Spirits, we take pride in offering you the finest selections from around the world, and Old Elk Sour Mash Reserve Small Batch Whiskey, Batch No. 2, is no exception. Elevate your whiskey collection with this exceptional expression that embodies tradition and innovation in every drop. Order now and let Old Elk Sour Mash Reserve transport you to the heart of American whiskey craftsmanship. Cheers to the extraordinary!