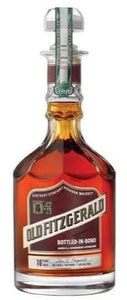 Introducing the Old Fitzgerald Bottled in Bond 16 Year Old Kentucky Straight Bourbon Whiskey, a true gem for connoisseurs and collectors alike. Crafted with unparalleled care and aged to perfection, this exceptional spirit stands as a testament to the art of distillation. Distilled in Kentucky, the heartland of bourbon, and bottled at 100 proof, this bourbon is a celebration of time-honored traditions and unparalleled craftsmanship.

The Old Fitzgerald 16 Year Old is a whiskey that captures the essence of time itself. With every sip, you'll be transported to the oak-filled rickhouses where it aged gracefully for over a decade and a half. The result is a deep, rich amber hue and a symphony of flavors that dance on your palate. Notes of vanilla, caramel, and toasted oak are harmoniously intertwined, creating a profile that is both bold and smooth.

This Kentucky Straight Bourbon embodies the Bottled in Bond designation, guaranteeing that it's a product of the highest quality. It's a whiskey that follows strict regulations, from using grains from a single season to aging for at least four years in a federally bonded warehouse. Such commitment to quality ensures that every drop of Old Fitzgerald 16 Year Old delivers an exceptional and consistent experience.

Whether you're an avid bourbon enthusiast or a newcomer to the world of whiskey, this 16 Year Old Kentucky Straight Bourbon is a must-have in your collection. Its well-rounded, complex flavors make it perfect for sipping neat, on the rocks, or in classic bourbon cocktails. As you pour a glass and savor the flavors, you'll understand why Old Fitzgerald is a name synonymous with heritage and excellence in the world of bourbon.

At Folsom Wine & Spirits, we take pride in offering you exceptional spirits like the Old Fitzgerald 16 Year Old. With each bottle, you're not just buying whiskey; you're investing in an experience, a piece of Kentucky's whiskey history. We invite you to experience the allure of this remarkable bourbon, a true testament to the passion and craftsmanship of the distillers who've dedicated their lives to the art of bourbon-making. Raise your glass and toast to the timeless excellence of Old Fitzgerald.