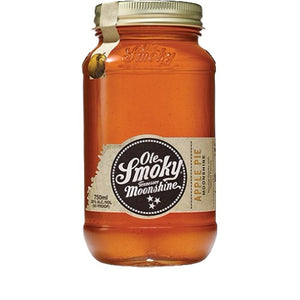 Delight in the heartwarming embrace of Ole Smoky Apple Pie Moonshine, a harmonious marriage of Southern tradition and culinary innovation. This moonshine captures the comforting essence of freshly baked apple pie, inviting you to savor the flavors of home and hearth in every sip.

In the glass, the moonshine glows with a golden hue, reminiscent of a sunlit orchard. The aroma is an inviting blend of ripe apples, warm cinnamon, and a touch of sweetness, evoking memories of cozy kitchens and shared moments.

From the first sip, you're transported to the nostalgia of apple pie. The taste profile seamlessly blends the sweetness of apples with the comforting spice of cinnamon, creating a symphony of flavors that's both familiar and exciting.

As the moonshine envelops your palate, layers of flavor come to life. Juicy apple notes dance harmoniously with the warmth of cinnamon, creating a sensory experience that's both nostalgic and indulgent. It's a celebration of tradition and craftsmanship, all in one sip.

The finish is a satisfying conclusion, leaving behind a gentle echo of apple pie goodness that lingers, much like the memory of cherished family gatherings. Ole Smoky Apple Pie Moonshine isn't just a beverage – it's a tribute to the flavors of home, an invitation to relish life's simple pleasures, and a testament to the artistry that goes into crafting exceptional spirits.

Whether enjoyed on its own, mixed into imaginative cocktails, or used as an inventive twist in desserts, Ole Smoky Apple Pie Moonshine brings the warmth of the hearth wherever you are. It's a reminder that the best moments are often the ones shared with loved ones and accompanied by a sip of something comforting.