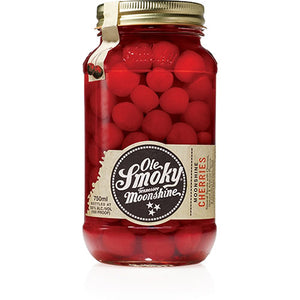 Indulge in the irresistible allure of Ole Smoky Moonshine Cherries, a delectable fusion of tradition and innovation. Plump, ripe cherries are handpicked at their peak, then infused with Ole Smoky's authentic moonshine, creating a captivating culinary delight.

Each cherry encapsulates a harmonious balance of sweetness and moonshine's signature kick. The rich burgundy hue hints at the luscious flavors waiting to be savored. With a delightful aroma that combines the essence of ripe fruit and a whisper of oak, these moonshine-soaked cherries are an invitation to indulge.

Upon the palate, experience the burst of sweet cherry essence, followed by the smooth embrace of Ole Smoky's moonshine. The result is a tantalizing dance of flavors that lingers, leaving a hint of moonshine warmth as a testament to its Appalachian roots.

Ole Smoky Moonshine Cherries are not only a delicious treat on their own, but they also add a touch of luxury to cocktails and culinary creations. Garnish your favorite libations with these moonshine-infused cherries, or elevate desserts with their unique flair. The possibilities are limited only by your imagination.

Savor the tradition and craftsmanship that goes into each Ole Smoky Moonshine Cherry. Whether enjoyed solo, as a garnish, or as a surprising twist in your culinary endeavors, these cherries are a nod to the past, with a flavor that's undeniably modern and unforgettable.