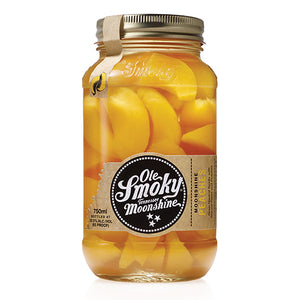 Elevate your senses with Ole Smoky Peaches Moonshine, a tantalizing blend that captures the essence of sun-kissed peaches and the bold spirit of Appalachian tradition. Crafted with care and expertise, this moonshine pays homage to the sweet and vibrant flavors of ripe peaches, delivering an experience that's both nostalgic and exhilarating.

The liquid glows with a golden radiance, reminiscent of a summer sunset over an orchard. Aromas of freshly sliced peaches envelop your senses, transporting you to lazy afternoons under swaying peach trees. The fragrance is both inviting and invigorating, promising a journey of taste like no other.

As the first sip touches your lips, you're greeted by the lush sweetness of ripe peaches, perfectly balanced against the backdrop of Ole Smoky's signature moonshine. The flavor profile dances between the succulent juiciness of peaches and the robust character of traditional craft distillation. It's a harmonious marriage that speaks of meticulous craftsmanship and the beauty of natural ingredients.

The finish is smooth and enduring, leaving behind a gentle echo of peachy goodness and a touch of warmth that's both comforting and invigorating. Ole Smoky Peaches Moonshine is a versatile companion – enjoy it neat, over ice, or use it as a foundation for imaginative cocktails that celebrate the taste of summer all year round.

Savor the spirit of the orchard and the heart of the mountains with each sip of Ole Smoky Peaches Moonshine. It's a symphony of flavors that invites you to slow down, unwind, and appreciate the simple pleasures of life in every drop.