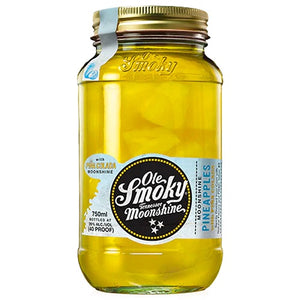 Indulge in a tropical escape with Ole Smoky Pineapples with Piña Colada Moonshine, a harmonious fusion of exotic flavors and craft distillation. This moonshine captures the essence of sun-soaked pineapples and the creamy delight of a classic piña colada, inviting you to unwind and savor a taste of paradise.

In the glass, the moonshine shines with a golden radiance, reminiscent of a sunset over a tropical beach. The aroma is an enticing blend of juicy pineapples and the inviting notes of coconut, transporting you to a faraway island oasis.

With the first sip, you're transported to a world of vibrant flavors. The succulent sweetness of pineapples mingles seamlessly with the lush creaminess of piña colada, creating a taste profile that's both refreshing and indulgent. It's a celebration of summer vibes and the joy of carefree moments.

As the moonshine envelops your palate, layers of flavor unfold. Ripe pineapple notes are complemented by the velvety embrace of coconut, creating a sensory experience that's both enchanting and immersive. It's a harmonious blend of tropical allure and the craftsmanship of Ole Smoky's distillation.

The finish is a satisfying crescendo, leaving behind a gentle reminder of the paradise you've just tasted. Ole Smoky Pineapples with Piña Colada Moonshine isn't just a drink – it's an invitation to escape, a tribute to the vibrancy of tropical flavors, and a celebration of the artistry that goes into crafting exceptional spirits.

Whether enjoyed on its own, mixed into imaginative cocktails, or incorporated into culinary creations, Ole Smoky Pineapples with Piña Colada Moonshine brings a taste of the tropics wherever you are. It's a reminder that life is best lived with a touch of adventure and a sip of sunshine.