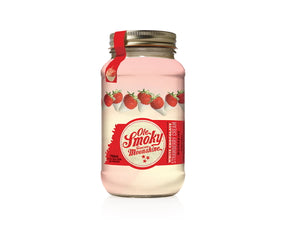 Experience a luxurious symphony of flavors with Ole Smoky White Chocolate Strawberry Cream Moonshine, a decadent masterpiece that marries the allure of sweet strawberries with the indulgence of creamy white chocolate. This moonshine is a celebration of elegance and innovation, inviting you to savor a taste that's both enchanting and enchanting.

In the glass, the moonshine presents a delicate blush hue, reminiscent of sun-kissed strawberries. The aroma is a tantalizing blend of ripe strawberries and the rich sweetness of white chocolate, evoking memories of romantic evenings and sumptuous desserts.

From the very first sip, you're greeted with the velvety essence of white chocolate, seamlessly mingling with the juicy succulence of strawberries. The taste profile is an ode to indulgence, striking a perfect balance between the bright freshness of berries and the opulent allure of white chocolate.

As the moonshine dances on your palate, layers of flavor unfold. The sweetness of strawberries is elevated by the silky texture of white chocolate, creating a sensory experience that's both captivating and comforting. It's a fusion of elegance and craftsmanship that's sure to delight.

The finish is a crescendo of satisfaction, leaving behind a gentle aftertaste that captures the essence of a delightful dessert. Ole Smoky White Chocolate Strawberry Cream Moonshine isn't just a beverage – it's an invitation to indulge, a tribute to the finer pleasures in life, and a testament to the artistry that goes into crafting exceptional spirits.

Whether savored neat, used as a foundation for creative cocktails, or incorporated into culinary creations, Ole Smoky White Chocolate Strawberry Cream Moonshine elevates every moment. It's a reminder that life's most exquisite experiences are often found in the combination of unexpected flavors and uncompromising quality.