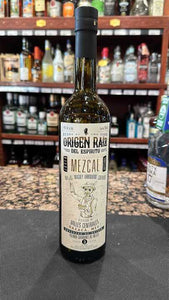 Introducing Origen Raiz del Espiritu Cenizo Mezcal, an exceptional expression of the rich Mexican tradition of mezcal-making, available exclusively at Folsom Wine & Spirits. This artisanal mezcal is a tribute to the roots of the craft, a journey that captures the essence of agave and the spirit of Mexico's time-honored distillation practices.

From the very first glimpse of the Origen Raiz del Espiritu Cenizo Mezcal bottle, you'll be captivated by its authenticity. The handcrafted design pays homage to the mezcal's origins and the heritage of the agave plant. This is not just a bottle of mezcal; it's a work of art that tells a story of generations of mezcaleros who have perfected the art of this remarkable spirit.

Uncorking the bottle releases an inviting aroma, immediately filling the air with hints of roasted agave, earthy tones, and a touch of smoke. It's a prelude to the complex and diverse flavor profile that awaits. The first sip is an awakening of the senses, as the liquid caresses your palate with a full-bodied, velvety texture. The flavors of roasted agave, subtle citrus, and a gentle smokiness dance harmoniously, creating a symphony of taste that transports you to the heart of Mexico.

The finish is long and satisfying, leaving you with a warm and lingering embrace. This Origen Raiz del Espiritu Cenizo Mezcal is a true masterpiece of tradition and craftsmanship, showcasing the depth and character of this unique spirit. It's a must-have for both the seasoned mezcal aficionado and those who are new to this exquisite world of agave.

This limited release offers a rare opportunity to own a piece of the artistry and heritage that define the world of mezcal. Elevate your spirits collection with this exceptional mezcal, and toast to the dedication, precision, and tradition of Mexico's agave spirits. Secure your bottle today, and embrace the roots of the spirit with Origen Raiz del Espiritu Cenizo Mezcal. Cheers to the soul of Mexico in every drop!