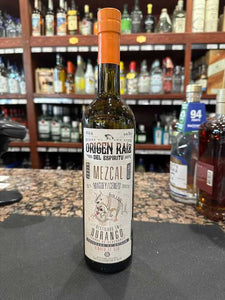 Embark on a voyage through the heart of Mexico's mezcal heritage with Origen Raiz del Espiritu Durango Mezcal, an exclusive treasure available only at Folsom Wine & Spirits. This extraordinary mezcal captures the essence of Durango, a region celebrated for its rich traditions and artisanal craftsmanship in mezcal production. It's an invitation to explore a world of unparalleled flavor and authenticity.

The Origen Raiz del Espiritu Durango Mezcal is presented in a handcrafted bottle that reflects the earthy essence of the agave plant and the cultural roots of Durango. As you unseal the bottle, an inviting aroma fills the air, captivating your senses with notes of smoky agave, wild herbs, and a touch of minerality. This aromatic embrace is a prelude to the depth and complexity that awaits.

The first sip is a revelation, as the silky, full-bodied liquid caresses your palate. You'll encounter a symphony of flavors, from the smoky richness of roasted agave to the earthy undertones and the subtle hint of green herbs. This mezcal is not just a drink; it's an exploration of Mexican heritage and tradition, a testament to the craftsmanship that goes into every bottle.

The finish is long and satisfying, leaving you with a warm, lingering embrace that beautifully showcases the depth and character of this authentic Durango mezcal. Origen Raiz del Espiritu Durango Mezcal is a true masterpiece, beckoning both seasoned mezcal aficionados and those new to the world of agave spirits.

This limited release offers a unique opportunity to own a piece of Durango's soul and heritage. Elevate your spirits collection with this exceptional mezcal, and raise your glass to the dedication, precision, and tradition of Mexican agave spirits. Secure your bottle today and savor the essence of Durango in every drop. Cheers to the heart of Mexico!