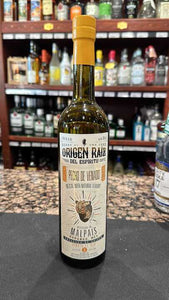 Indulge in the remarkable world of mezcal with Origen Raiz del Espiritu Pecho de Venado Makpais Mezcal, an exceptional artisanal spirit available exclusively at Folsom Wine & Spirits. This mezcal is a true testament to the soul and tradition of Mexico, capturing the rich history of agave and the unparalleled craftsmanship of mezcaleros who have mastered the art of this exquisite libation.

From the moment you lay eyes on the Origen Raiz del Espiritu Pecho de Venado bottle, you'll be transported to the heart of the agave world. The beautifully designed label pays homage to the mezcal's heritage, reflecting the deep respect for the agave plant. This is not just a bottle of mezcal; it's a piece of art that tells a story of the land, the people, and the generations who've distilled this remarkable spirit.

As you uncork the bottle, a tantalizing aroma fills the room, immediately embracing your senses with hints of roasted agave, earthy nuances, and a delicate smokiness. The nose hints at the complexity and depth of flavors that lie within. The first sip is an exploration of the senses, as the velvety liquid caresses your palate with a full-bodied texture. The flavors of roasted agave, subtle citrus, and a touch of smoke come together in perfect harmony, creating a symphony of taste that transports you to the heart of Mexico.

The finish is long and satisfying, leaving you with a warm, lingering embrace that reflects the depth and character of this unique spirit. Origen Raiz del Espiritu Pecho de Venado Makpais Mezcal is a true masterpiece of tradition and craftsmanship, an absolute must for the seasoned mezcal aficionado and those eager to explore the magic of agave spirits.

This limited release offers a rare opportunity to own a piece of the soul and heritage that define the world of mezcal. Elevate your spirits collection with this exceptional mezcal and toast to the dedication, precision, and tradition of Mexico's agave spirits. Secure your bottle today and savor the roots of the spirit with Origen Raiz del Espiritu Pecho de Venado Makpais Mezcal. Cheers to the heart of Mexico in every drop!