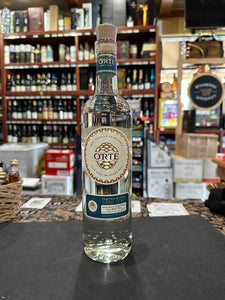 Introducing Orte Single Estate Blanco Tequila 750ml – the epitome of refined craftsmanship and the pure essence of Mexico's finest agave. Distilled with passion and precision, this exquisite tequila embodies the rich tradition and uncompromising quality that has made Orte a name synonymous with excellence in the world of spirits.

Crafted by Nature, Perfected by Orte
Our tequila begins its journey in the fertile fields of our single estate, where our carefully selected blue agave plants thrive under the Mexican sun. Only the heart of the agave is used, ensuring that each drop of Orte Blanco Tequila is an authentic representation of the agave's true character. The plants are harvested at their peak, meticulously roasted, and crushed to extract every drop of agave nectar.

Pure Elegance in Every Sip
Orte Single Estate Blanco Tequila is renowned for its smooth and elegant profile. The liquid is distilled in small batches using traditional methods, resulting in a tequila that embodies the essence of its origin. Crisp and clean, our Blanco offers a remarkable balance of earthy and citrus notes, with a subtle hint of pepper and herbal undertones. It's a taste that transports you to the heart of Jalisco, where tequila traditions have thrived for generations.

A Versatile Delight
Whether you savor it neat, in a classic Margarita, or as the foundation of your favorite cocktails, Orte Single Estate Blanco Tequila elevates every drinking experience. Its purity and depth of flavor make it the perfect choice for those who appreciate the finer things in life.

Packaged with Distinction
Housed in an elegant 750ml bottle, Orte Single Estate Blanco Tequila not only pleases the palate but also delights the eye. The striking design pays homage to our commitment to quality and tradition, making it an exceptional addition to your spirits collection or a thoughtful gift for someone who appreciates the art of tequila making.

Experience the Essence of Mexico
Orte Single Estate Blanco Tequila is more than just a spirit; it's a journey through the rugged landscapes of Mexico, the devotion of our master distillers, and the allure of authentic agave flavor. Each bottle tells a story, and each sip invites you to be part of it.

Elevate your tequila experience with Orte Single Estate Blanco Tequila 750ml, where the purest agave essence meets the artistry of tequila craftsmanship. Discover the difference that dedication and tradition make in every bottle.